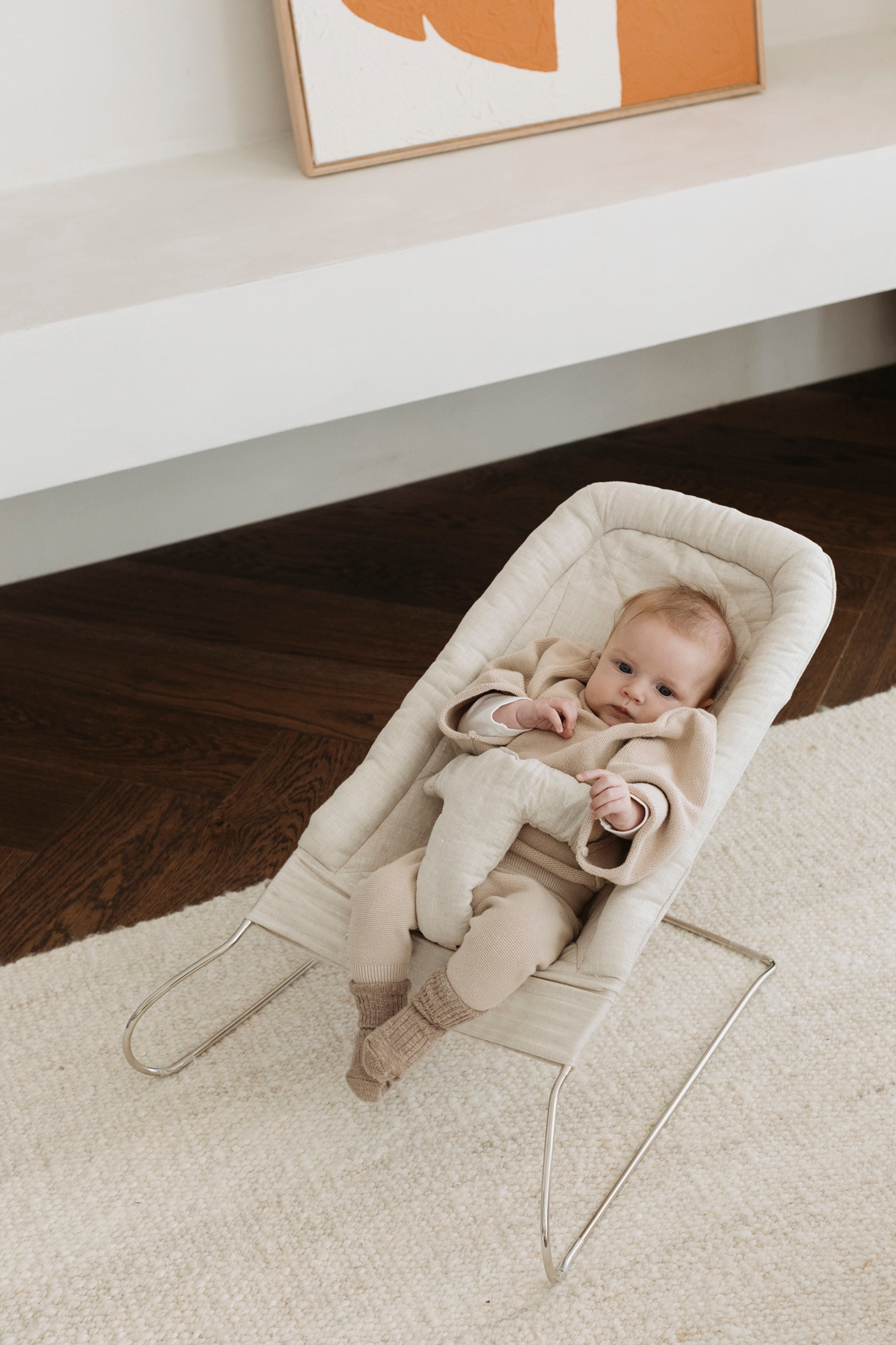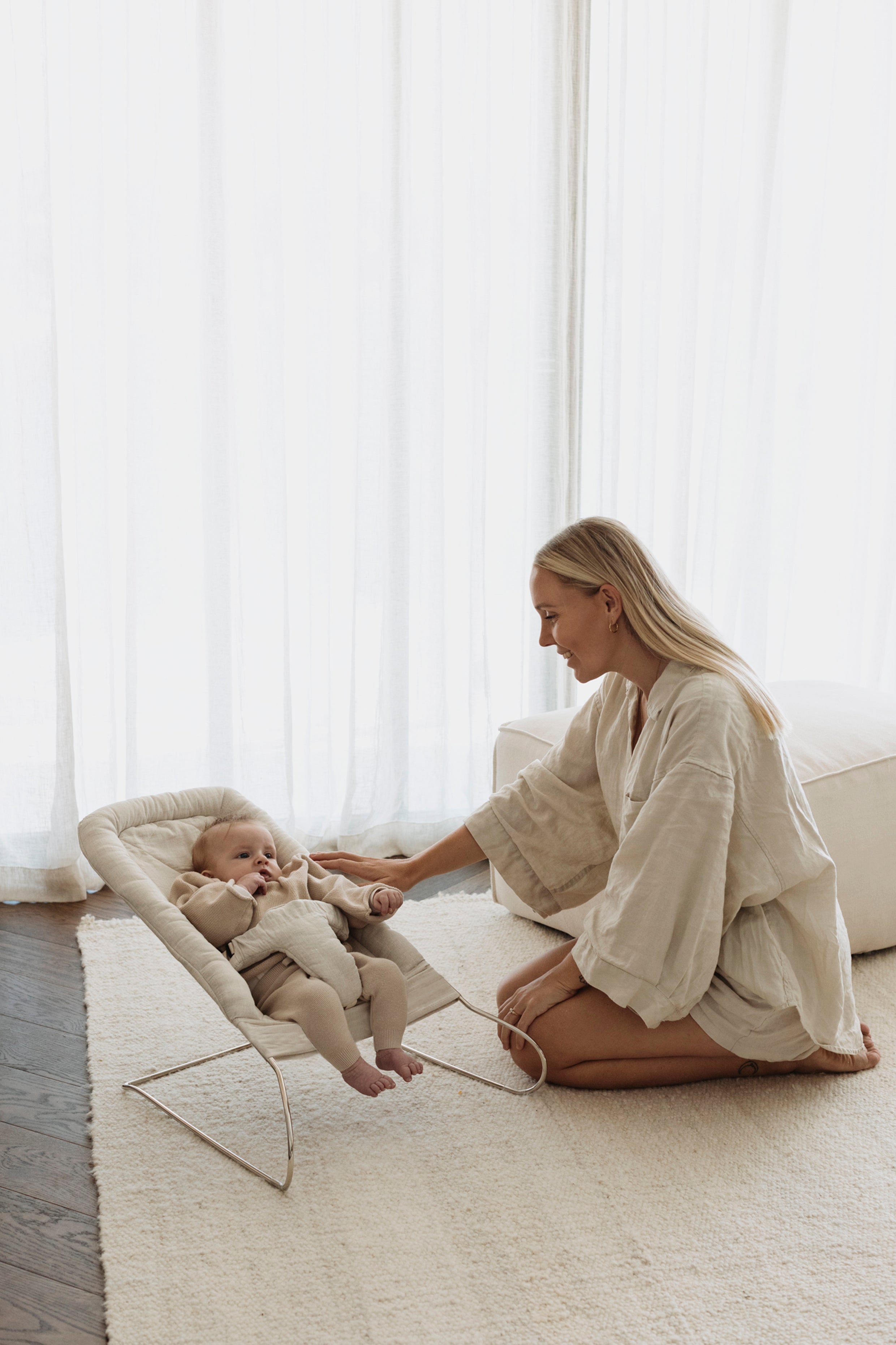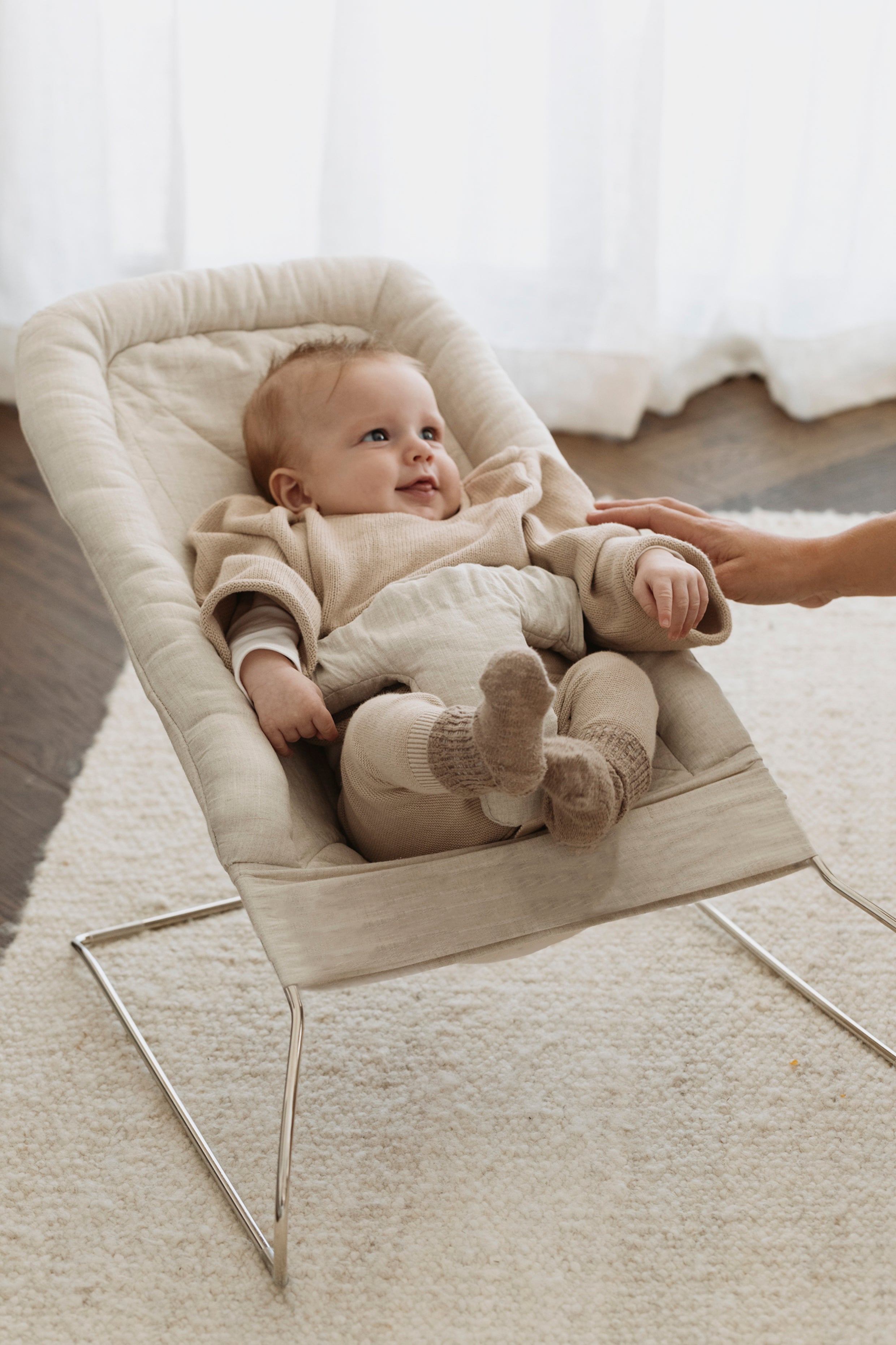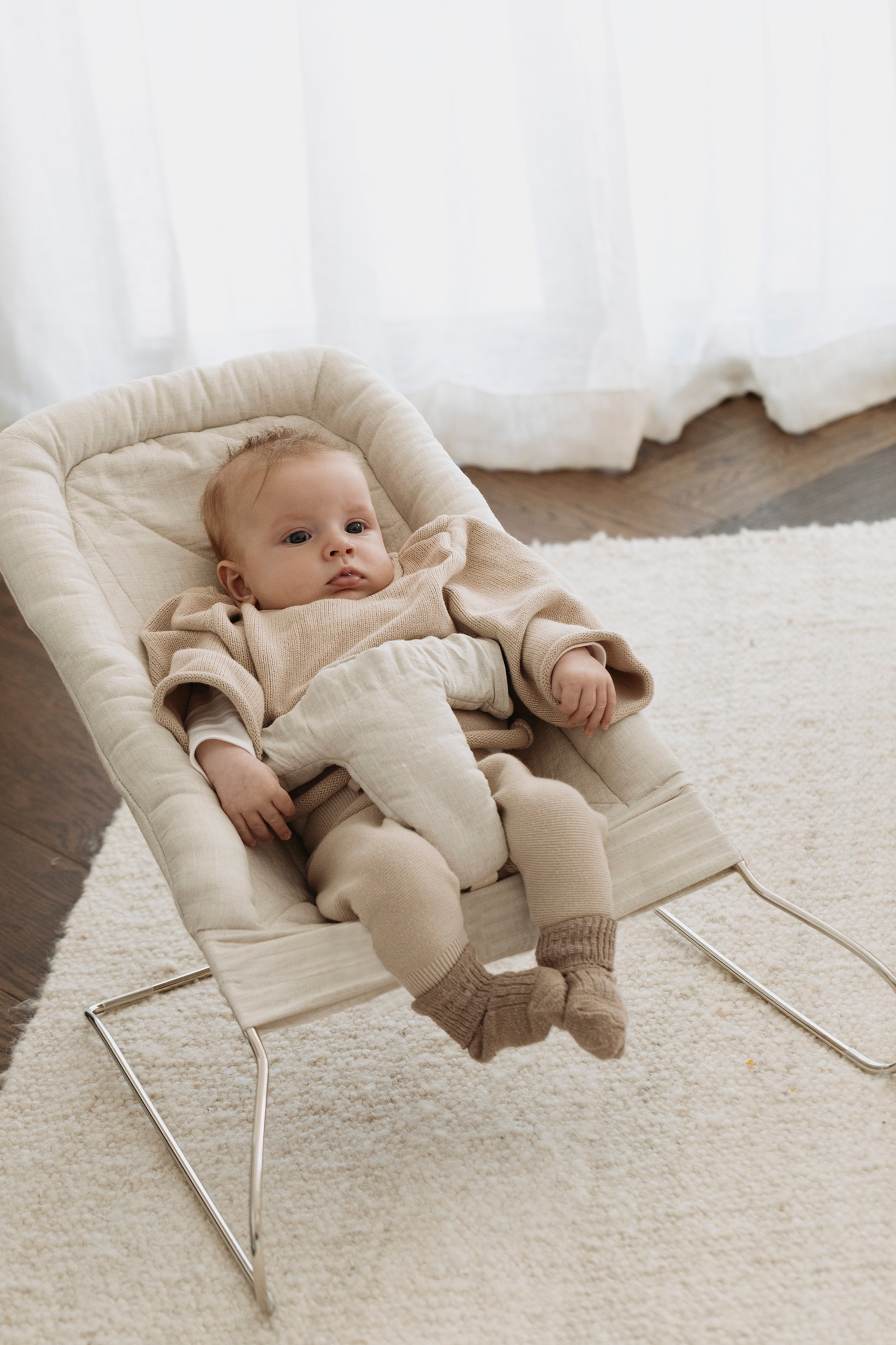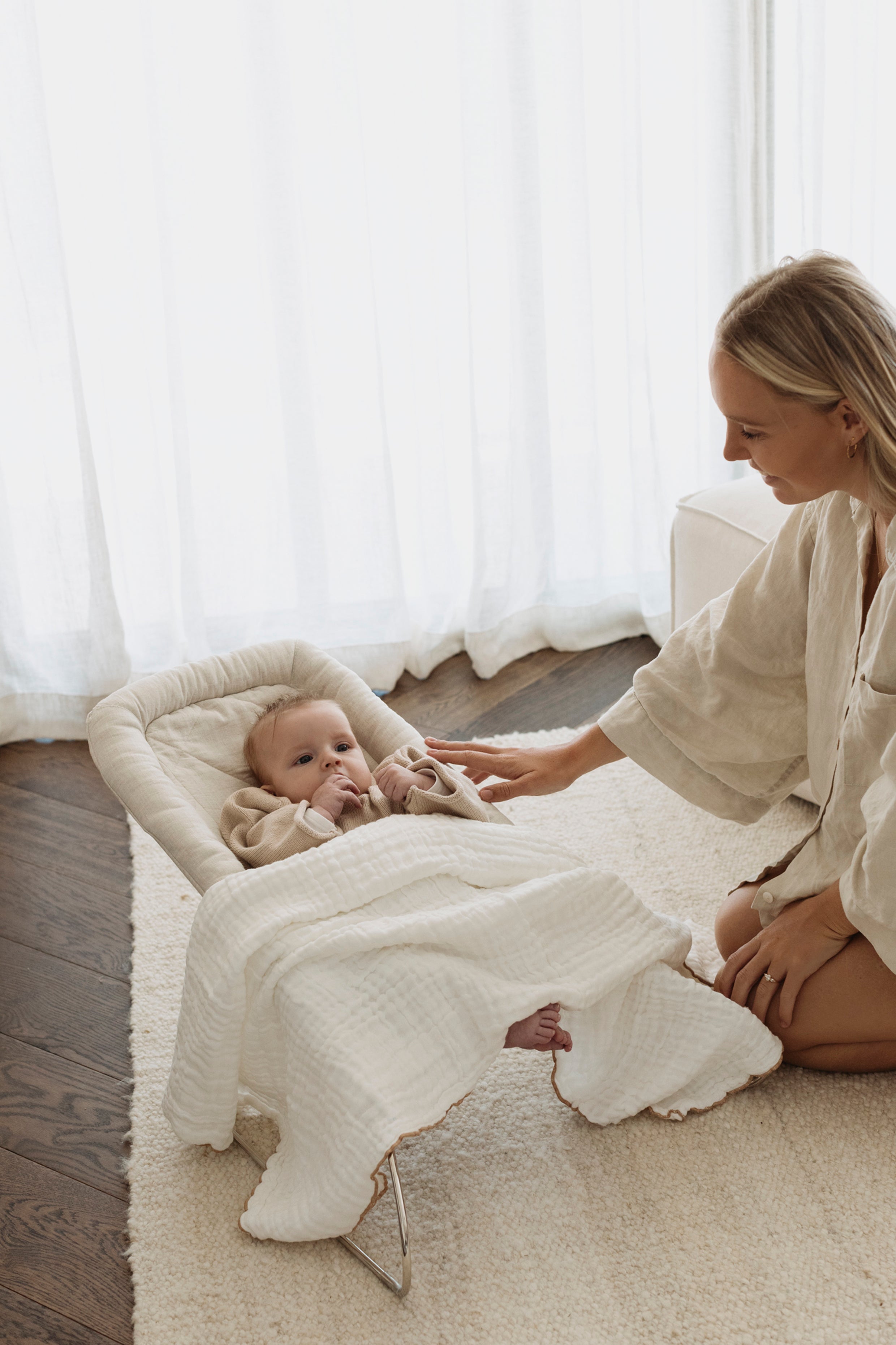 ⓘ In stock
Description
This lightweight baby bouncer is designed with utmost care to provide comfort, safety, and convenience. Made with a sturdy iron frame in a chic chrome color, the Lottie Bouncer is not only sleek and modern but also incredibly lightweight, making it easy to move around your home as needed.
Designed to be used from birth until your baby can sit unaided, the Lottie Bouncer offers an adjustable seat harness to ensure a secure fit, allowing your baby to bounce gently while being safely harnessed in place.
Crafted from 100% organic linen yarn, making it not only luxurious but also environmentally friendly. It's also certified with OEKO TEX 100, ensuring it's free from harmful chemicals and gentle on your baby's delicate skin. The padded quilted seat cover, made from the same organic linen yarn, is easily removable for washing, making cleanup a breeze.
Plus, it comes with a 100% cotton canvas carry bag, making it easy to take on the go or store away when not in use.
*Please note that due to the natural undyed yarn, colour of the seat may vary between light cream and light grey.
Dimensions: Width 53cm, Length 74cm, Height 48cm, Seat Length 64cm, Seat Width 28cm, Seat Depth 12cm, Back Height 43cm
Details
• Designed by SACRED BUNDLE
• Durably handcrafted by artisans offshore
• Lightweight
• To use from birth and until the baby can sit unaided (Max 20lbs / 9kg)
• Iron frame in chrome colour
• OEKO TEX 100 certified
• 100% Organic linen yarn
• Padded quilted seat cover, easily removable for washing
• Adjustable seat harness
• Comes with 100% cotton canvas carry bag
Timber & Finish
• Iron Frame in chrome colour
• OEKO TEX 100 certified
• 100% Organic linen yarn
• Natural yarn may vary in colour from light cream to light grey
Safety & Care
WARNING:
• FALL HAZARD: Babies have suffered skull fractures falling while in and from bouncer
• Use bouncer ONLY on floor, it is dangerous to use on an elevated surface e.g. table
• Child's activity may move the bouncer
• NEVER lift or carry baby in bouncer or fitted toy bar (if applicable)
• SUFFOCATION HAZARD: Babies have suffocated when bouncers have tipped over on soft surfaces
• NEVER use on a bed, cushion or other soft surface
• NEVER leave baby unattended

To prevent falls and suffocation:
• ALWAYS use restraints. Adjust to fit snugly, even if baby falls asleep.
• STOP using bouncer when baby starts trying to sit up or has reached 20 lbs (9KG), whichever comes first

CARE:
• Seat pad:
Wash separately, cold gentle wash.
Do not tumble-dry. Check the resistance of the
fabric and the stitching after cleaning.

• Frame:
Wipe the frame using warm water and a mild detergent.
Ensure the product is fully dry before use or storage.
Shipping & Availability
Discounted rates apply to metro areas of QLD, NSW, ACT and VIC. Precise quotes will be calculated at checkout.

International shipping is also available. However, please note that additional charges will apply for delivery, alongside associated duty costs and taxes on arrival (if applicable for your country)