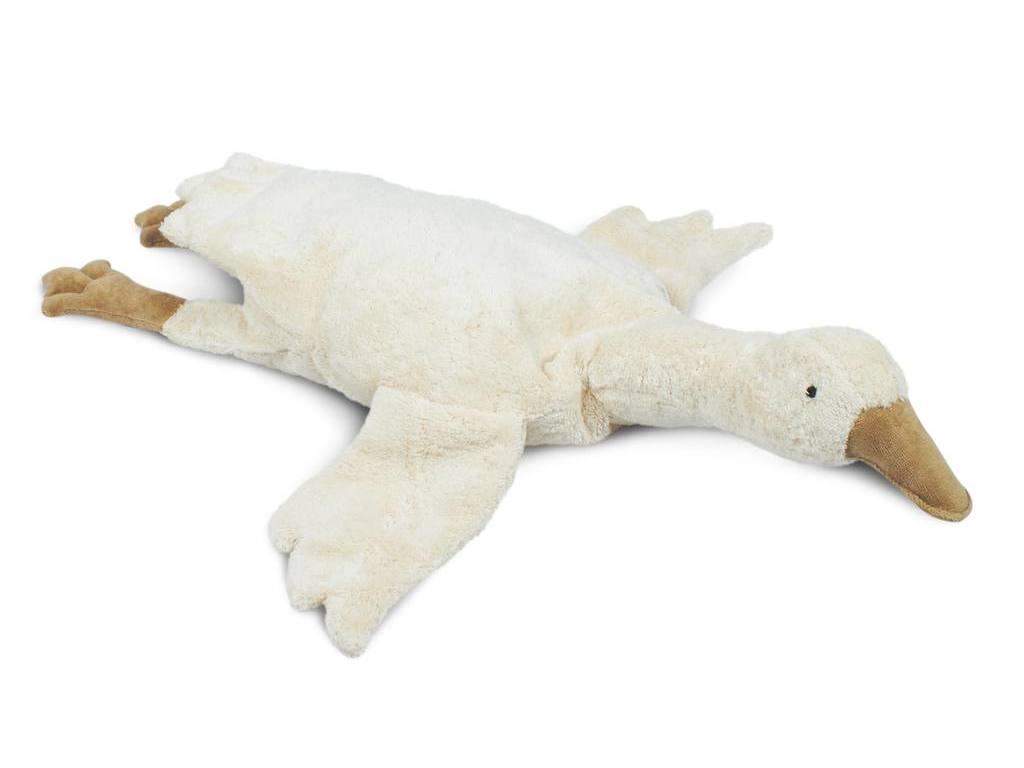 Senger Cuddly Animal - Goose Large
ⓘ In Stock
Description
Senger "Cuddly Animals" are a special handmade Ecological toy. Simultaneously, it is both a cuddly toy and a comforting warm pillow. Crafted from organic cotton, they boast a velvety softness that beckons tender cuddles. Inside there is a removable cotton pillow. Filled with certified organic Spelt Husk that can be placed in the oven to heat or in the fridge to cool. Once it has reached the desired temperature, gently return it to the enclosed zippered pouch. An ideal companion during chilly winter nights or for soothing belly aches when illness strikes.The organic Spelt Husks gentle weight bestows a soothing effect and offers your little one essential sensory feedback. A harmonious pairing of warmth and weight, creating the perfect combination for comfort and tranquility.

Dimensions: 690x170x800mm
Weight: 0.73kg
Details
Material:
Outer: Organic Cotton Plush, free from pollutants and meeting strict quality and safety controls.
Filling: Pure Lambswool (except the removable cushion - see below)
Removable Cushion: Cotton outer, filled with organic Spelt Husk
Safety & Care
WARNING: Fire Danger, do not heat Spelt Husk pillow in microwave, only suitable for warming in the oven due to fire risk.

WARNING: Do not overheat, risk of burns to the skin or the risk of overheating in newborns

To Heat: Please remove the Spelt Husk pillow through the opening in the cuddly toy's belly and heat it in the oven at a maximum of 75°C for approximately 2-3 minutes. When heated, the Spelt Husk pillow should be warm to the touch, the same as body temperature - a living, soothing warmth, never hot to the touch. Refer to warnings above, and only ever heat the removable pillow, not the entire toy.

To Cool: Place in the fridge to cool, and can then be used to soothe when a cooling effect is needed.

Usage: A soft and cuddly toy that doubles as a gentle heat bag for children, and can be used as a weighted blanket.

Quality & Safety: Made from organic plush cotton, and filled with pure Lambs Wool and Organic Spelt Husk, free from pollutants and meeting strict quality and safety controls.
Shipping & Availability
Free shipping Australia wide.

International shipping is also available. However, please note that additional charges will apply for delivery, alongside associated duty costs and taxes on arrival (if applicable for your country).
Senger Cuddly Animal - Goose Large