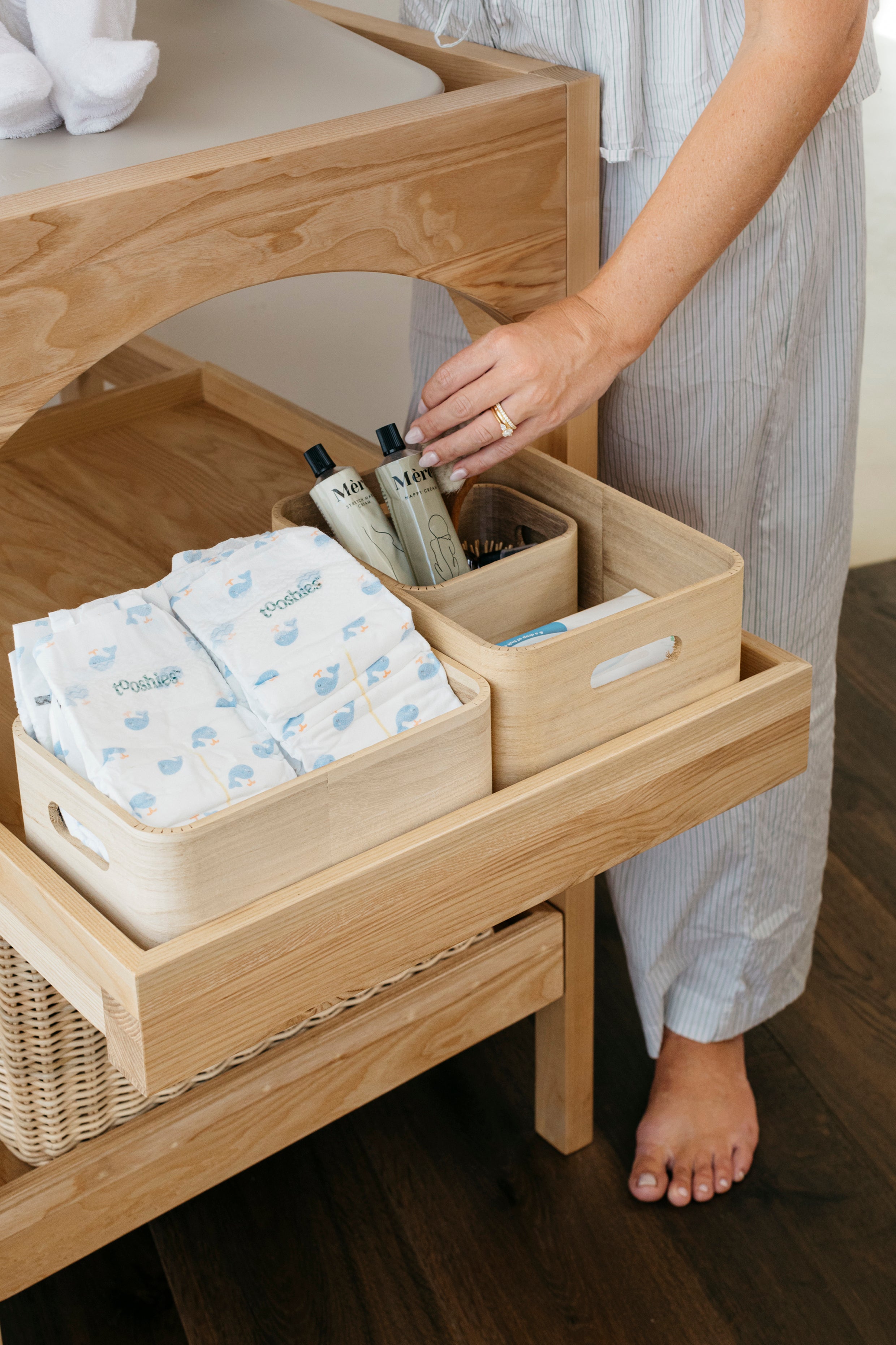 ⓘ Available to pre-order. Estimated dispatch late December-early January. CN8
Description
Elevate your nursery with the Yoli Ashwood Timber Baby Change Table—an embodiment of timeless sophistication and environmental consciousness. Crafted from sustainably sourced ashwood timber, this contemporary piece showcases the wood's versatile tones and intricate grain details, delivering an heirloom-quality design destined to endure generations.
Designed for the modern parent, this table features two pull-out soft-close trays, enhancing the ease and grace of those precious moments with your baby. Meticulously designed to accommodate a Leander Change Mat (sold separately), it seamlessly blends style and practicality, ensuring a harmonious and functional space for your little one.
*storage baskets not included*
Assembled Dimensions - 76 L/D x 57 W x 90 H cm
Top Internal Dimensions - 68 x 51 cm (maximum pad dimensions)
Pull Out Tray Internal Dimensions - 68 x 46 cm
Tray Gap Height - 24cm
Details
• Designed by SACRED BUNDLE
• Durably handcrafted by artisans offshore
• Made from solid Ashwood timber
• Designed to accommodate a Leander Change Mat (sold separately) and most industry leading change pads
• Includes two pull out soft close trays
• Arrives fully assembled
Safety & Care
WARNING: Do not leave child unattended on the change table

CARE:
• Wipe gently using a damp cloth of warm soapy water. Dry with a clean cloth
• A soft bristle tooth brush may be used to clean hard to reach areas
• Avoid prolonged or daily exposure to direct sunlight
• In case of the appearance of mildew after storage, generously spray all affected areas with a mix of 1:10 part vinegar and water. Once the mix has been applied, let it sit for 10 minutes and wipe clean with a dry cloth. Place the affected parts outside in direct sunlight for 1 hour to air out and allow it to thoroughly dry.
Shipping & Availability
Discounted rates apply to metro areas of QLD, NSW, ACT and VIC. Precise quotes will be calculated at checkout.

International shipping is also available. However, please note that additional charges will apply for delivery, alongside associated duty costs and taxes on arrival (if applicable for your country)

IMPORTANT SHIPPING INFORMATION

PLEASE READ CAREFULLY

-Check all items upon receipt. Damage/Missing claims will not be entertained if reported after 5 days from date of delivery.
-Do not discard original packaging/pallet until you have checked the item.
-Couriers are not always able to call ahead of delivery, even if specified.
-All deliveries are classified as "curbside deliveries". Drivers are not responsible for carrying items any further than off the truck.
-Due to WH&S laws, drivers are not required to lift any items over 20kg and may sometimes not leave heavy goods under ATL (Authority to leave) requests.
-Due to the size and weight of some items they will be delivered on a pallet.
-If your order is delivered on a pallet/crate we, nor the freight company are responsible for the removal of the pallet/crate.

"Authority to leave" requests:

-You will need to make sure someone is available at the delivery address to accept delivery unless you have already given us ATL.
-If your item/s exceed 20kg, the driver may not be able to leave the goods under ATL requests (Authority To Leave).
-Our company, neither the delivery courier will be liable for any lost items delivered under ATL request (Authority To Leave).

How long until my order arrives?

East Coast:

Please allow 2 - 4 business days for your order to arrive to most of the East Coast from the time you receive this email.

WA, NT, TAS, SA and rural and remote areas:

Please allow 4 - 15 business from the time you receive this email.

Disclaimer: Stated delivery times are industry averages as provided by our carriers. Delays may occur during holiday and peak periods or extreme weather conditions. Remote deliveries are subject to local transport schedules and may encounter extended delays.