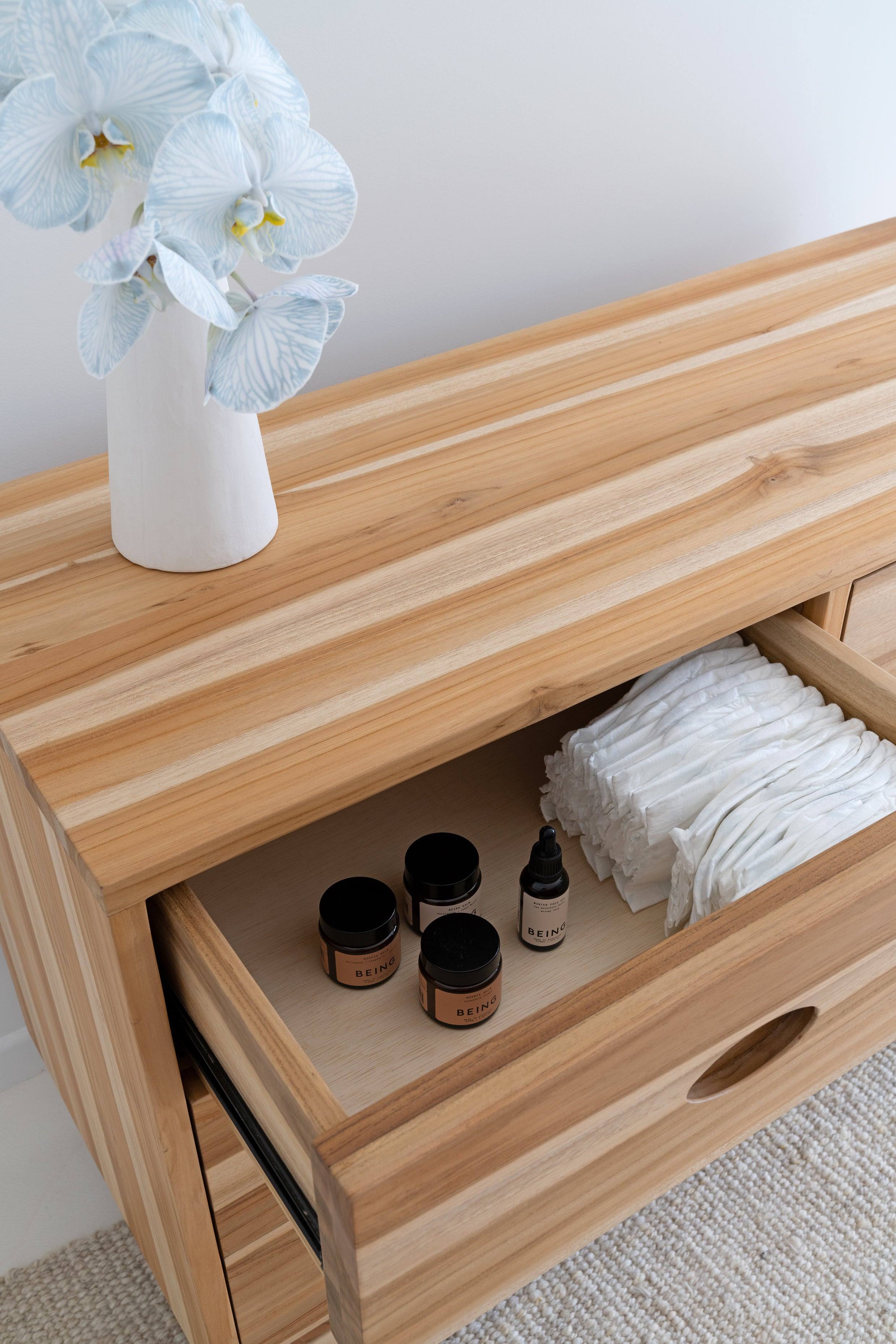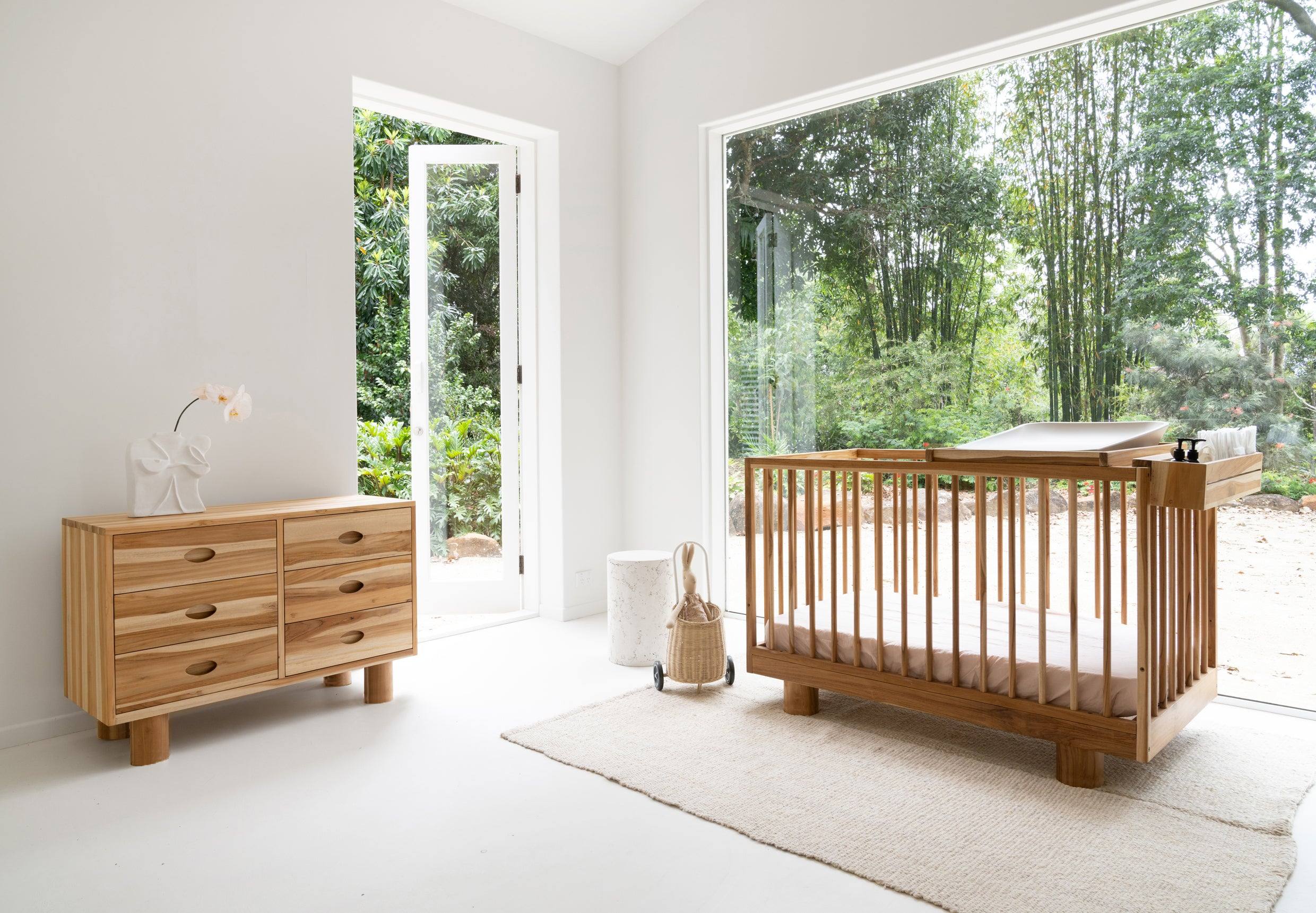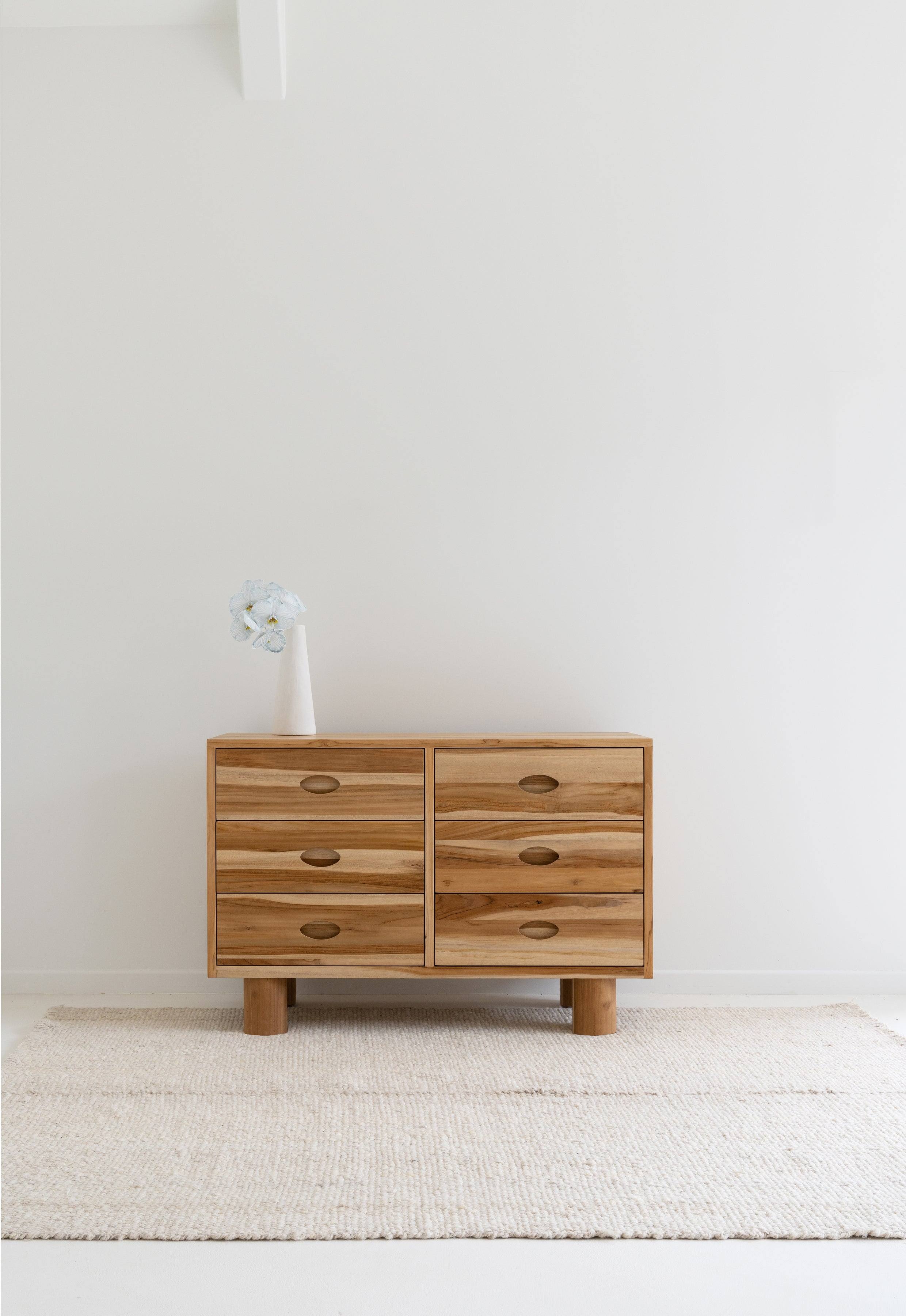 ⓘ In stock
Description
A new and popular nursery addition, the Hendrix buffet provides maximum storage and maximum style – adding the smoothest finish to cap off your child's dreamy nursery.
Consisting of solid natural teak wood rounded legs, the Hendrix buffet combines classic function with contemporary flair – designed to pair with our Hendrix cot to produce a timeless trademark finish. Also featuring six spacious drawers, the buffet provides sufficient extra storage for your child's room. 
Dimensions – 140 L x 45 W x 80.5 H cm
Internal Draw Dimensions - 68 L x 35 W x 17 H cm
*please check measurements carefully, item comes fully assembled and due to the size requires hallway space when being transported through your home. Item not eligible for return or refund. See box dimensions here*
Details
• Designed by SACRED BUNDLE
• Handmade from solid timber
• Durably handcrafted by artisans offshore
• Easy fuss-free assembly
• Furniture anchors included
Timber & Finish
• Handmade from solid teak timber external.
• Finishes are non-toxic, water-based and have low VOC health hazards
• Teak is a natural material therefore tonal variations, marks and grains are unique to each piece
Safety & Care
WARNING: Serious or fatal crushing injuries can occur from furniture tip-over. To prevent this furniture from tipping over it must be permanently fixed to the wall with the included wall
attachment hardware. If the provided hardware is not suitable for your wall, please consult your local hardware store for an alternate solution. Furthermore, do not allow children to climb the buffets even if they are secured to the wall.

CARE:
• Wipe gently using a damp cloth of warm soapy water. Dry with a clean cloth
• A soft bristle tooth brush may be used to clean hard to reach areas
• Avoid prolonged or daily exposure to direct sunlight
• In case of the appearance of mildew after storage, generously spray all affected areas with a mix of 1:10 part vinegar and water. Once the mix has been applied, let it sit for 10 minutes and wipe clean with a dry cloth. Place the affected parts outside in direct sunlight for 1 hour to air out and allow it to thoroughly dry.
Shipping & Availability
Discounted rates apply to metro areas of QLD, NSW, ACT and VIC. Precise quotes will be calculated at checkout.

International shipping is also available. However, please note that additional charges will apply for delivery, alongside associated duty costs and taxes on arrival (if applicable for your country)

IMPORTANT SHIPPING INFORMATION

PLEASE READ CAREFULLY

-Check all items upon receipt. Damage/Missing claims will not be entertained if reported after 5 days from date of delivery.
-Do not discard original packaging/pallet until you have checked the item.
-Couriers are not always able to call ahead of delivery, even if specified.
-All deliveries are classified as "curbside deliveries". Drivers are not responsible for carrying items any further than off the truck.
-Due to WH&S laws, drivers are not required to lift any items over 20kg and may sometimes not leave heavy goods under ATL (Authority to leave) requests.
-Due to the size and weight of some items they will be delivered on a pallet.
-If your order is delivered on a pallet/crate we, nor the freight company are responsible for the removal of the pallet/crate.

"Authority to leave" requests:

-You will need to make sure someone is available at the delivery address to accept delivery unless you have already given us ATL.
-If your item/s exceed 20kg, the driver may not be able to leave the goods under ATL requests (Authority To Leave).
-Our company, neither the delivery courier will be liable for any lost items delivered under ATL request (Authority To Leave).

How long until my order arrives?

East Coast:

Please allow 2 - 4 business days for your order to arrive to most of the East Coast from the time you receive this email.

WA, NT, TAS, SA and rural and remote areas:

Please allow 4 - 15 business from the time you receive this email.

Disclaimer: Stated delivery times are industry averages as provided by our carriers. Delays may occur during holiday and peak periods or extreme weather conditions. Remote deliveries are subject to local transport schedules and may encounter extended delays.